P.O. Box 159
Delavan, WI 53115

Contact WCGS: Walworth Genealogy 

An Affiliate member of the
Wisconsin State Genealogical Society
---
All Meetings are on the 1st Tuesday of the month, at the Community Centre, 826 E. Geneva St., Delavan, WI,
and are at 6:30 pm unless otherwise noted.
Visit our staffed library room any Tuesday from 10:00 until 3:00 in the Mary Bray room at the
Matheson Memorial Library in Elkhorn
****************************************
2014 Upcoming Events
****************************************

November 4th - 6:30 pm - Presentation of the slate of candidates for the 2015-2016 term: (President, Treasurer, & 2 board members)
Program: "Taking Your Family Research from Chaos to Calm" Presented by:
Jean Hoffman from the Kenosha Civil War Museum

Again, we will be taking nominations for the slate of candidates
for the upcoming election in December. The positions open
are: President, Treasurer, and 2 Board Members.
We will have nomination slips at the sign in table.




December 2nd - 5:30 pm - Annual Christmas Pot Luck dinner following voting for officers.
The entree will be sliced ham and fried chicken.
Members bring the veggies, salads, sides, and desserts.
After dinner, we will play Take-away Bingo!!



-----------------------------------------------------

To see our 2014 cemetery walk. Click here .

-----------------------------------------------------
Donations
Donations are requested for new WCGS equipment fund.
To help with the purchase of a new PC for use in our library room, please click here.

--------------------------------------------

Members are requested to bring a donation for the
Lakeland Animal Shelter. For a list of their needs, click here.
or
Because of recent cutbacks in Federal Assistance Programs you may wish
to make a donation to your local food pantry, for a listing of them, click here.
---
Membership Information and Officers
Walworth County Visitors Bureau
---
Genealogist's Code of Ethics
That I will treat with the greatest care and respect all public records and library books which may be available for my use.
That I will speak with courtesy to all employees of a vital records office, or of a public library, when requesting to see any vital records or library book, and when finished with such record or book, I shall express my thanks to the person attending to my request.
That I will not tear, erase or remove any public record or library book, and will refrain from mutilating, defacing or otherwise destroying any part of such public record or library book.
That when I have finished viewing any public record or library book, I will return it to the proper or designated place.
---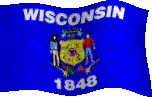 ---
You are visitor #5768
Copyright 2013 Walworth County Genealogical Society
---