P.O. Box 159
Delavan, WI 53115

An Affiliate member of the
Wisconsin State Genealogy Society
---
All Meetings are on Tuesdays and at 6:30 pm unless otherwise noted.
---
Upcoming Events
***Memberships renew December 31st – If you haven't renewed, now is the time!***

May 7th 6:30 pm - Workshop/Research at the ARC (Area Resource Center) at the University of Wisconsin, Whitewater hosted by Karen Weston. We will also have beginning and advanced genealogical research workshops. Contact us for carpooling information at 262-215-0118.

June 4th 6:30 pm - Program on Irish History with Daniel Kane
(Extended Family Ties, Genealogy Consulting Services)

July Annual Cemetery Walk - more information to be announced

August 6th 6:30 pm - Ice Cream Social with Chris Brookes doing a portrayal of
a character from the past (bring your own toppings).
---
Donations
Members are requested to bring a donation for the
Lakeland Animal Shelter. They always need paper towels and scented dish and liquid
laundry detergent and dry kitten chow are high priorities now.
---
Special Events
---
Membership Information and Officers
Walworth County Visitors Bureau
---
Genealogist's Code of Ethics
That I will treat with the greatest care and respect all public records and library books which may be available for my use.
That I will speak with courtesy to all employees of a vital records office, or of a public library, when requesting to see any vital records or library book, and when finished with such record or book, I shall express my thanks to the person attending to my request.
That I will not tear, erase or remove any public record or library book, and will refrain from mutilating, defacing or otherwise destroying any part of such public record or library book.
That when I have finished viewing any public record or library book, I will return it to the proper or designated place.
---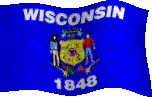 ---
You are visitor #16835
Copyright 2013 Walworth County Genealogical Society
---