P.O. Box 159
Delavan, WI 53115

Contact WCGS: Walworth Genealogy 

An Affiliate member of the
Wisconsin State Genealogical Society
---
All Meetings are on the 1st Tuesday of the month, at the Community Centre, 826 E. Geneva St., Delavan, WI,
and are at 6:30 pm unless otherwise noted.
Visit our staffed library room any Tuesday from 10:00 until 3:00 in the Mary Bray room at the
Matheson Memorial Library in Elkhorn
~~~~~~~~~~~~~~~~~~~~~~~~~~~~~~~~~In Memorium~~~~~~~~~~~~~~~~~~~~~~~~~~~~~~~~~~~
We were deeply saddened to hear of the passing of one of our early members and former Society President, Peggy Rockwell Gleich, June 28, 2015. Peggy was a great help to our society over the years, and we will miss her counsel very much!
Funeral services will be 2pm Thursday July 2, 2015 at the Monroe Funeral Home, 604 E. Walworth Ave., Delavan WI. Friends may call from 1pm until the time of service. Memorials may be made in Peggy's name to
Walworth County Genealogical Society, or to the Delavan Historical Society.
~~~~~~~~~~~~~~~~~~~~~~~~~~~~~~~~~~~~~~~~~~~~~~~~~~~~~~~~~~~~~~~~~~~~~~~~~~~~~~~
****************************************
2015 Upcoming Events
****************************************
July 7th - 6:30 pm - Patrick M. Quinn, former Archvist with Northwestern University and a native of
Lake Geneva, will relate to us about Civil War soldiers who came home to Geneva
and surrounding townships.
July 18th - 1:00 pm - Cemetery Walk at Hudson Cemetery, Lyons Road north of Hwy 36 - We will have presenters highlighting specific individuals resting here.
August 4th - 6:30 pm - Walworth County's own Ginny Hall will present "The Secret History of Walworth County" in conjunction with our Ice Cream Social
Members are reminded to bring their favorite toppings to share!
-----------------------------------------------------
Membership Information and Officers
Walworth County Visitors Bureau
---
Genealogist's Code of Ethics
That I will treat with the greatest care and respect all public records and library books which may be available for my use.
That I will speak with courtesy to all employees of a vital records office, or of a public library, when requesting to see any vital records or library book, and when finished with such record or book, I shall express my thanks to the person attending to my request.
That I will not tear, erase or remove any public record or library book, and will refrain from mutilating, defacing or otherwise destroying any part of such public record or library book.
That when I have finished viewing any public record or library book, I will return it to the proper or designated place.
---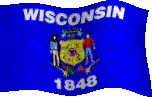 ---
You are visitor #196
Copyright 2013 Walworth County Genealogical Society
---